Something in the way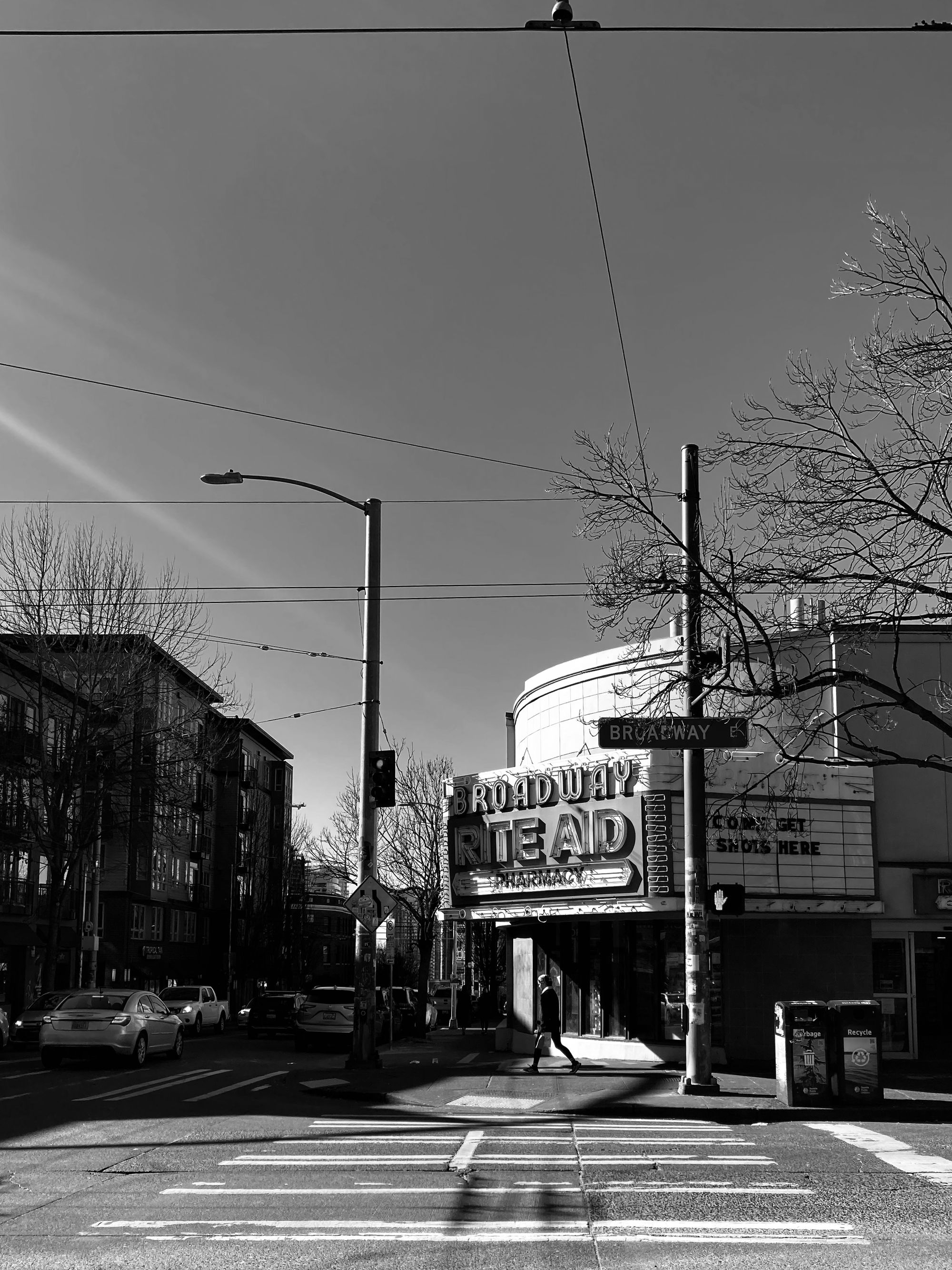 You say eavesdropping, I say just part of eating at the bar. I overheard a story that I loved. Three people. One of them is trying to sell her father's waterfront home. That person was fairly quiet, but a friend filled the third person in on the details and then talked about about the father's history with the house.
The father was an engineer and very smart (my dad already approves of this story). He worked for a massive engineering company (I'm intentionally keeping this vague) before taking a job on one of the islands.
He was passionate about boats, so in the 1960s or 1970s he built a home in what was then a remote waterfront area. It wasn't speculative. He wanted to be close to deep water, have a pier for boat-working, and wanted a view of the water.
I was already hooked, but I liked the brief tangents. For example, the three discussed home ownership and how elusive it is for so many Americans. One of them is trying to buy a condo, and it sounds like he'll get it. They compared that to the 1960s and 1970s when the father bought the waterfront property. He made a good living, but he wasn't tech money wealthy. They talked about how it was a relatively good time in terms of income equality; buying a home wasn't an unrealistic dream. I'm not an economist, so I'm not sure of historical income equality statistics, and I'm not arguing that home ownership was easy back then.
Towards the end of his life, the father was amazed to see how the area had changed. Big houses, big money. Far out of reach of even a successful engineer.
My favorite part of the story was hearing how the father went after the life he wanted. Sounds easy enough, but I've struggled with it at times. I also really liked learning that there are tugboat races around here.
I mentioned my recent road trip from Phoenix to Seattle. I hardly took any photos. I was in a rush to get back and found myself wanting to be off the road. It wasn't a bad trip, though. The scenery on that route (see below) is incredible. Austere, wide open, empty. I know it's psychological, but sometimes it seems like the state borders were assigned by clearly delineated landscapes. Oh, this feels like a transition, it feels different...drop the border here.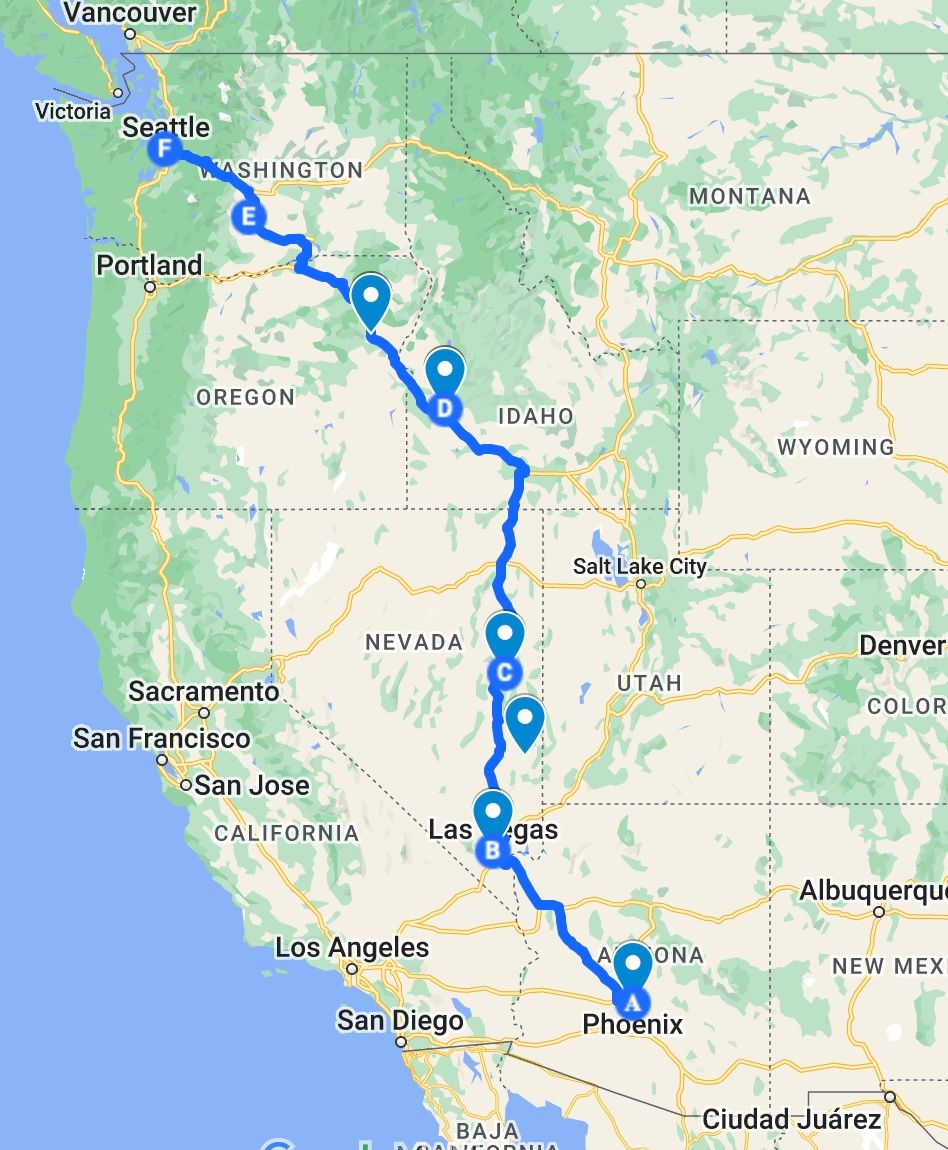 I can't do long stretches of driving anymore. I usually make it 5-6 hours before I start getting a little road weary, and that transition between golden hour, blue hour, and dark isn't fun. I can keep going if I take a little break at that point, but these days I just look for a motel.
I probably could have made it from Las Vegas to Twin Falls, but I called it a day in Ely, Nevada. I liked spending the night there. If you're ever in Ely, I can absolutely recommend La Quinta. Clean, quiet, reasonably priced. Things close fairly early, so my dinner options were limited. I had a McDonald's Filet-o-Fish. My second one in two years. My second one in 30 years. I watched the end of the Super Bowl at a little pub in a casino. Nice group of folks. The bartender is looking forward to the next Indiana Jones movie. Indy's the reason she got into archaeology. Everyone agreed that it was a great game.
Pushed on the next day. Woke up early, but I still managed to get a late start after eating a leisurely breakfast, checking weather forecasts, and wasting time with the news. I was hoping to make it past Boise, but Old Man Winter had other plans. The snow started coming down pretty hard southeast of Boise. I haven't driven in snow in ages. You couldn't make out the lane markers, and before I settled back into snow driving, had that strange sensation that the other vehicles and I weren't actually moving forward. Time to get off I84.
I lucked into another great hotel - Townplace Suites. Clean, comfortable, quiet, and close to the interstate. And free lobby coffee! The people in Idaho must all be fit. The fitness center was busy non-stop. Some day that will be me. Until then, I think those people should stop flaunting their willpower and discipline! Trudged through the snow to eat at a place called The Shed. Nice little spot.
I know this isn't the most exciting road trip story ever. I'll wrap it up here in a bit. I was anxious about the stretch from Boise to Yakima. It's a beautiful drive, but it can be stressful in winter. Heck, part of it is called Deadman's Pass. I lucked out with the weather, though, and with my decision to stop in Baker City. Cool little town, one of those places you think, hmm, I could live here.
I parked and walked around a bit before grabbing a sandwich at Charley's Deli and Ice Cream. Excellent veggie sandwich on a sourdough hoagie. I think the owner of the place made my sandwich. I could really go for another one of those sandwiches.
Almost done. I didn't take many backroads this trip, but I'm glad I continued on 30 rather than jumping immediately back onto I84. It's a pretty drive, and I got to stop in Haines. It's small, but it's cool. The corner store is in a beautiful old building. If I ever make it back there, I'm having a steak at the Haines Steak House.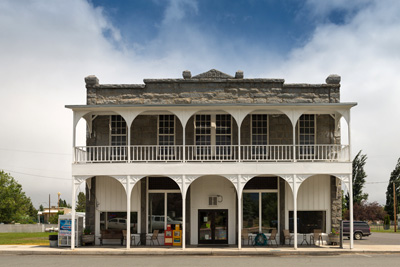 Ok, this has probably been a snoozefest. Made it to Yakima. Did not want to tackle Snoqualmie Pass at night. Fingers crossed I wouldn't get stuck in Yakima (nothing against Yakima, just the extra $$$.) by a late winter storm. Got a great night's rest at the Fairfield Inn and Suites despite the extensive renovations work going on. The next morning I had a beautiful sunny day for driving through that amazing pass. (I've never really had a specific focus for this site, but it's not turning into a hotel review site. I do like hotels, though.)
Odds and Ends.
I want to visit Japan, and I want to add Morioka to the itinerary. Have you ever read the New York Times (I just can't capitalize the) 50 something or other places to visit? It's a fun yearly list, and I keep hoping it will rekindle that travel bug for me. So far it hasn't worked.
Anyways, a few days ago I learned that a writer I've been following for a few years had an entry. Craig Mod has lived in Japan for about 20 years. He's carved out a neat, creative life there. Photographer, writer, bookmaker, walker. The New York Times asked him to write about a location, and he chose Morioka. The writeups in the Times and on his site (they all vary a bit, he's not a cut and paster) are wonderful. Morioka sounds like a vibrant, intimate city where younger generations return and carry on their parents' work. Coffee shops, cafes, bookshops. Sounds like my kind of place.
It was interesting to read his posts and the comments section of his NYT article. Mr. Mod got an unexpected whirlwind of attention from Japanese media, and he reflected on what this might mean for Morioka. He clearly made genuine connections there. He returned, and people were happy to see him and grateful that he'd shared his positive experience. He's aware of what that kind of sudden attention in this always online era can do. Several of the comments in the NYT piece expressed anger - oh great, you've ruined the place.
It reminded me of an article about how an appearance in a Thrillist "best burger" piece...oh my...I just pulled up the article, and there's a whopper of an editor's note. I didn't see that coming. The original article was about how a writer regretted featuring a burger joint on a national best of list because the traffic, the pressure, and the change in atmosphere killed the joint. Turns out there's a twist in that story. But I have a first-hand account for similar occurrences. I know some bartenders at a Seattle bar famous for its fish and chips - they didn't love the Bourdain effect. But intentions and sincerity matter. Mr. Bourdain wanted to tell people about some great fish and chips; Mr. Mod and the shopowners in Morioka connected. A rising tide lifts all boats, let's hope.
TB, if you're reading, we're about to talk about Blundstones. Let the record show, despite my awesome sister having once told me that I dressed like I'd fallen off an REI clearance rack (she doesn't remember saying it, and I am prone to poetic license, so maybe I made it up), I was about two years ahead of The New York Times (oh yea, I capitalized The in this instance) in the style department. First the image -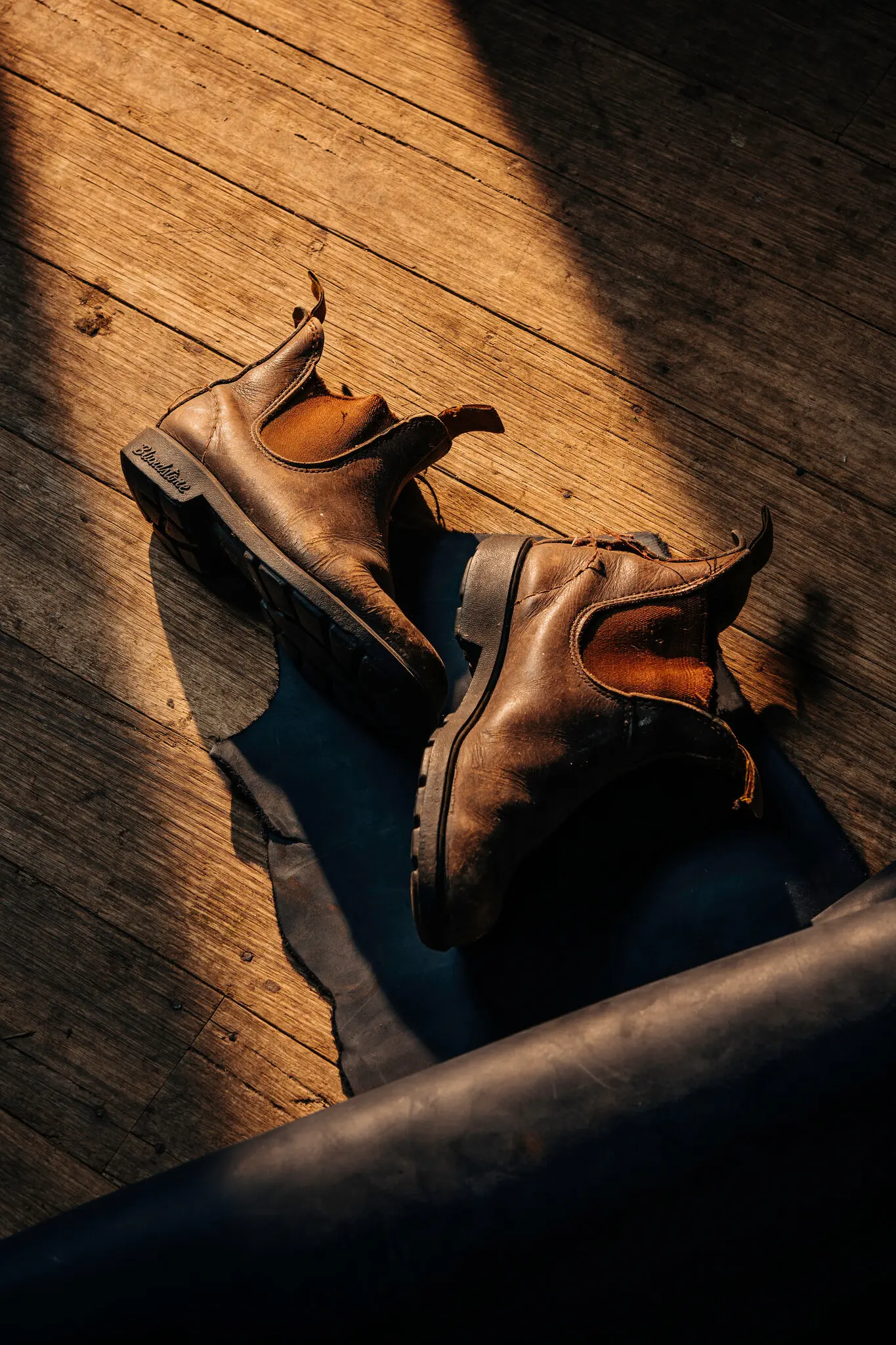 Then the headline -
Have You Clocked These Boots?
Every so often, a specific boot gets associated with a certain era. Will Blundstone's Chelsea boots be the defining style of the early 2020s?
At some point you realize that a good chunk of life is hearing the same conversations over and over. The other day I heard the I don't know why everyone freaks out when it snows. I made it to work just fine. I remember saying roughly the same thing after moving to DC in the 90s.
Still here. I took this photo because it was intense sunlight and cold, and I liked the stark background of the always photogenic Broadway Rite Aid. When I got home and opened it in Lightroom I realized there was a person walking along in the foreground. I like it.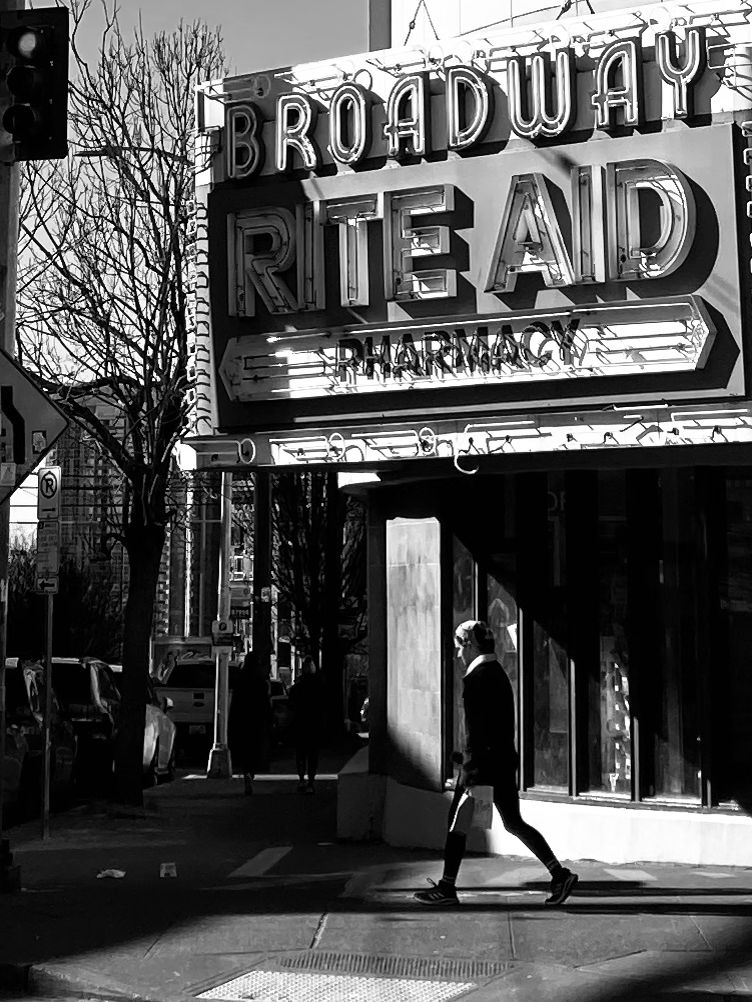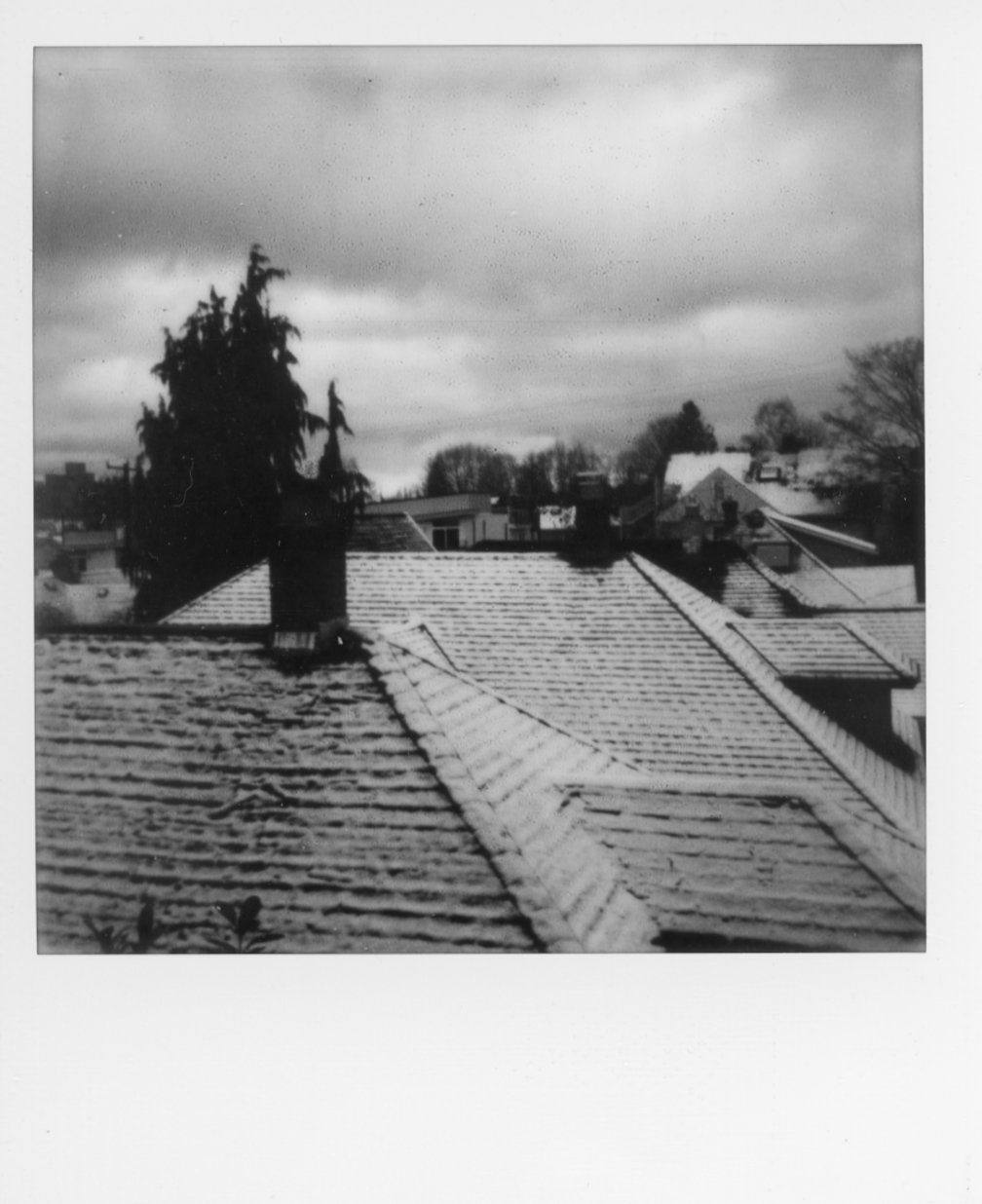 I re-watched Robert Pattinson's The Batman. I really like that movie. I've had Nirvana's Something in the Way stuck in my head for days. Colin Farrell is almost unrecognizeable, but gradually you start to see him. Initially I couldn't place the actor who plays Pete Savage, and then it dawned on me - that's the corporate security guy from Andor (Alex Ferns).
Sorry for the long, rambling post.