Gonna need a bigger tortilla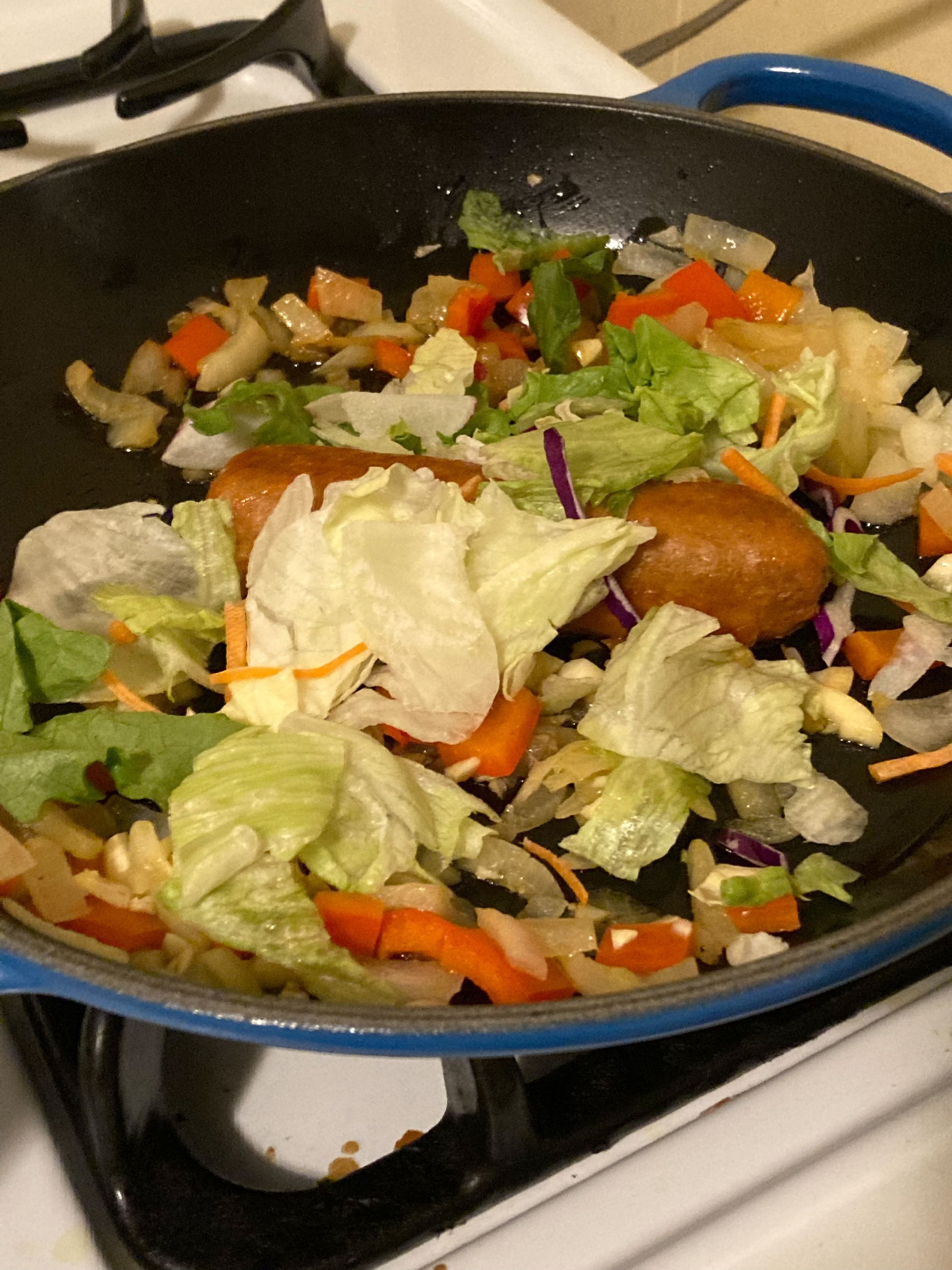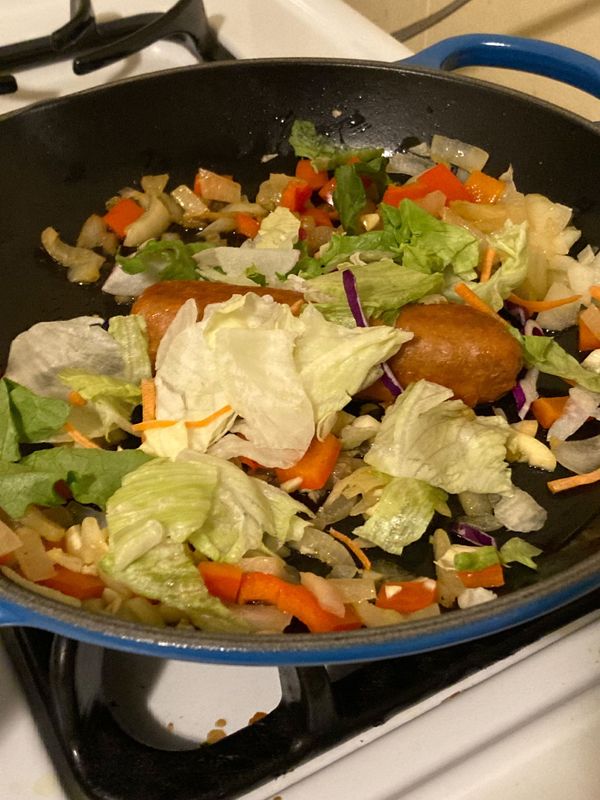 Warning (too late) - pictures from a dirty kitchen.
I didn't want to cook, and I didn't want to go the easy route of takeout. I wandered over to the local for a pint as I contemplated my next two hours. There are far healthier ways to find one's community than in a tavern, but it's community all the same. I've got at least 5,000 years of history on my side here. When did Prometheus give us fire? The first pub probably sprang up 15 minutes later. Two hours later if someone like me was in charge of the fire.
I bumped into some friends. One of them had to say goodbye to an ailing cat the other day. Young cat, cancer. I remember when she got the cat. Oh boy, they battled and tested one another. She learned that the cat (then a kitten, really) had a serious illness. They worked through the battles and came to a deep understanding. That cat had a wonderful 5 years.
Another friend told me that he's had an epiphany about what he wants to do. He wants to become fluent in sign language and help bridge the gap between those who can hear and those who cannot. It goes deeper than that. He learned some sign language as a child out of necessity. I suspect he's something of a linguist, because it's always stayed with him. (And all bartenders and servers are linguists, psychologists, mentors, business people, and sounding boards. And musicians, painters, and writers.)
He works in the service industry, and he's been in situations where he's been able to help people on both sides of the bar navigate. This is a heart-warming anecdote. He was behind the bar recently, a long, grueling shift. He was looking forward to clocking out and sleeping. In walked three deaf (one with partial hearing) and blind gentlemen. My friend assessed that he was a key link between the gentlemen and the bar - on the bar side. The three gentlemen were navigating life's many challenges just fine.
I learned a lot in the conversation about sign language. Facial expressions conveying inflection, tone, and context. Signing into others' hands when sight is also a factor. My friend sees a possible role for himself there. He'd be great at it.
So what did I cook? I was craving sausage, so I picked up a packet of Beyond Meat Hot Italian sausages, an onion (always start with an onion), a red pepper, and pickles. I chucked the onions and the sausage into a skillet. I think I always overcook onions. After a bit I threw in the peppers and some garlic. Heated a tortilla. Threw in some shredded lettuce in the skillet. Scooped a bunch of it into a too small tortilla and added a few pickles. Wasn't bad at all. I'm including a photo, but I know the first thing you'll notice is a criminal pouring of hot sauce. I remedied that some after the pic. I also had to cut the sausage in half.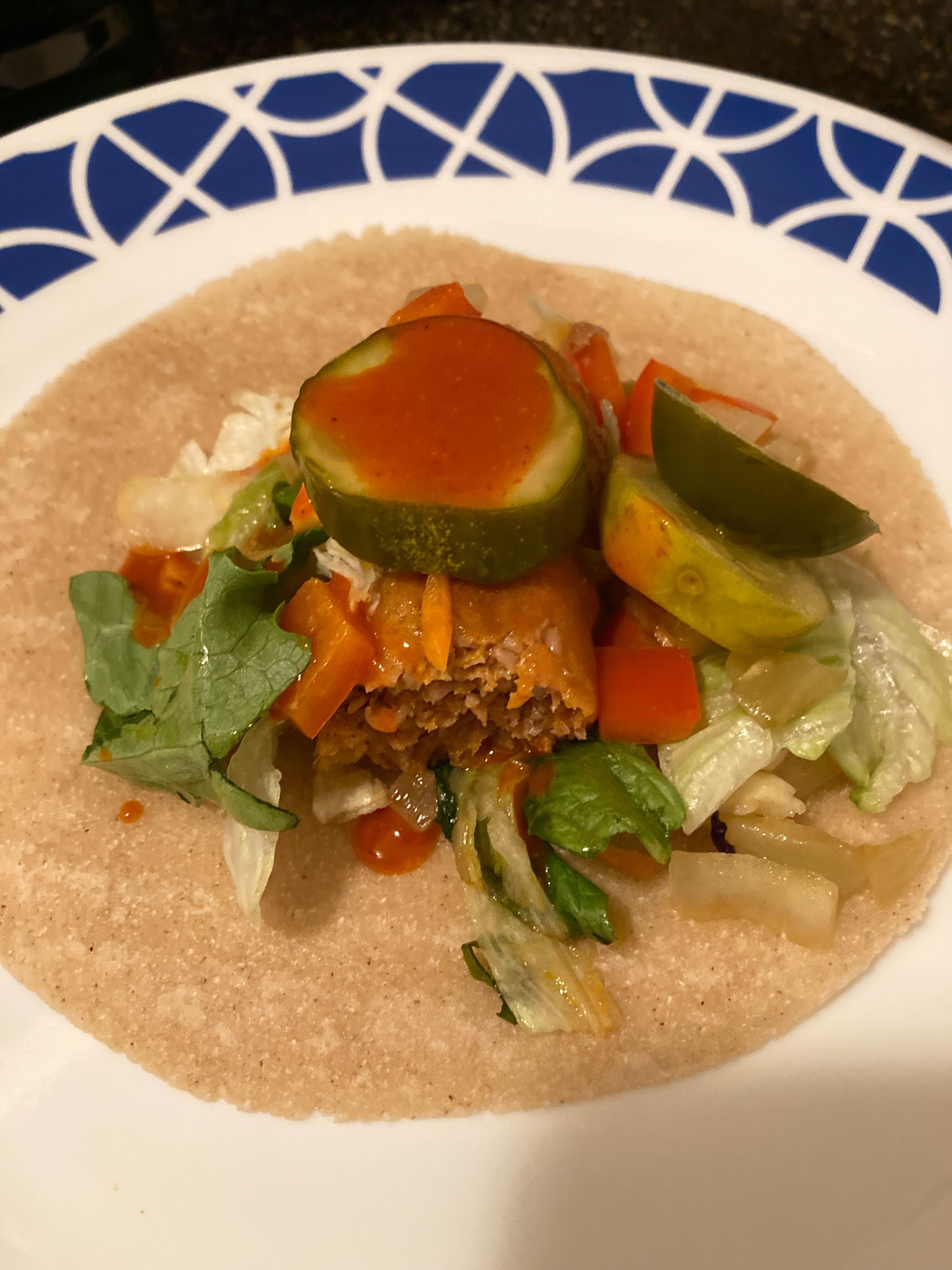 Still here? I mentioned a while back that I've been trying to cut out gluten. I've fallen short, but I've definitely reduced gluten. This brand is Siete cassava flour. They're pretty good. I haven't really got a refined palate. I should have gone with the larger size, though.