Out of the Shoebox: Miss(shu) or fun with phonetics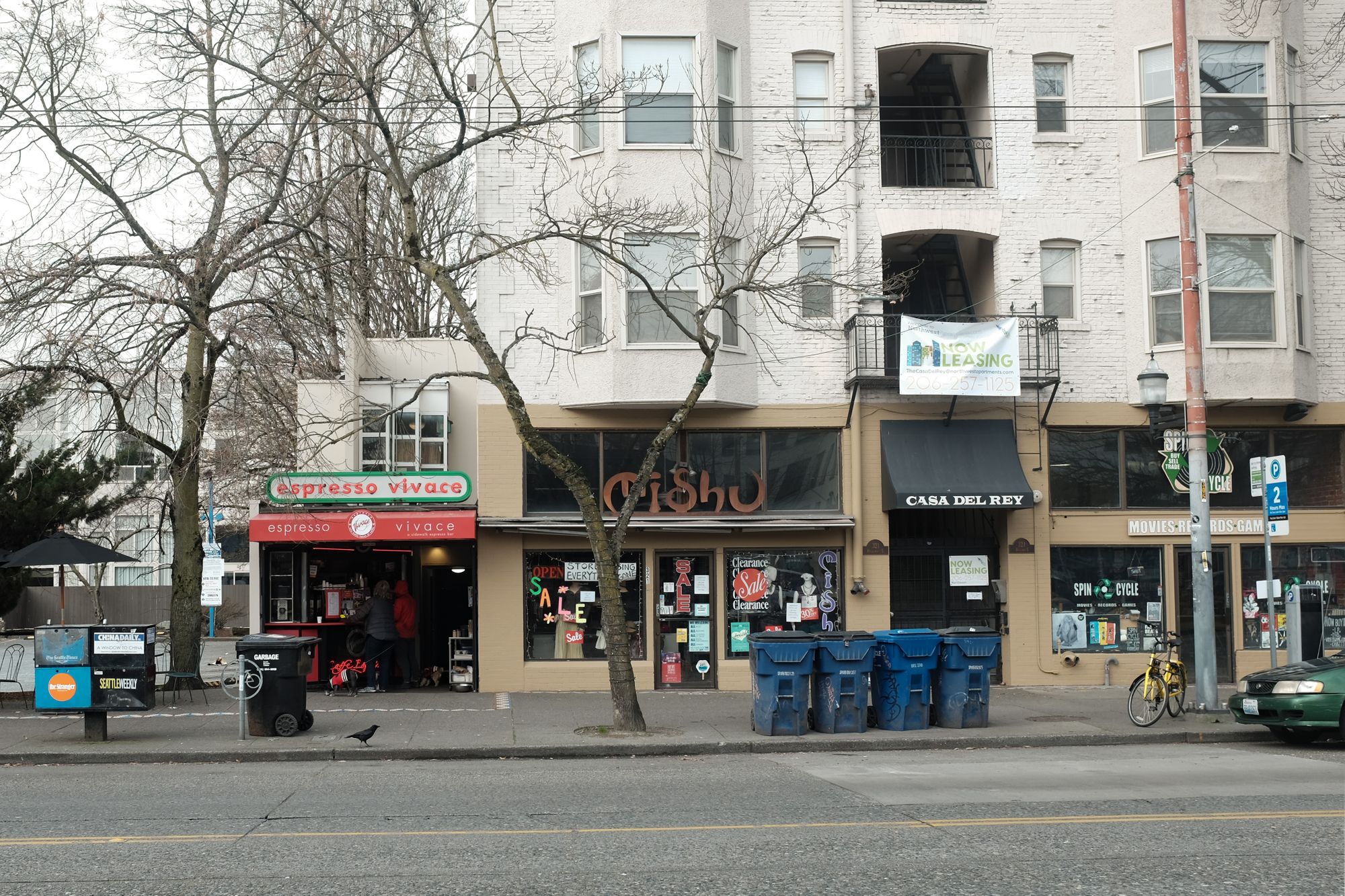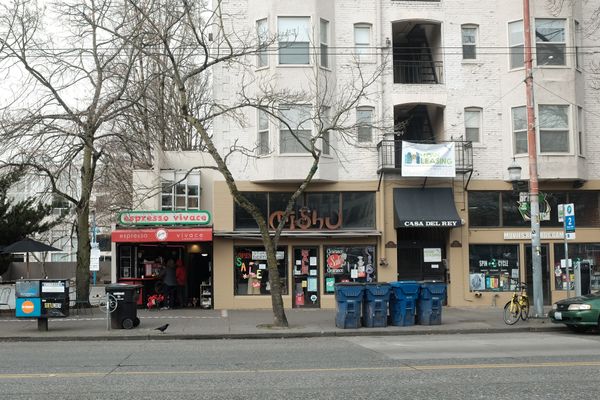 Phonetics might not be the right word. It's one of those words I think I know what it means, but I'm not really sure.
I love the Vivace coffee stand on Broadway. I'll go ahead and lay a wager. Anyone who has ever lived on Capitol Hill, whenever they see a red awning, a part of their brain says, Vivace. Or in the case of my friend Nika, Vivase. (Hi Nika!) I used to go there all the time, delicious coffee. But for a while now, my morning brain has gotten extra needy - coffee...and a breakfast sandwich! Mmmmm, breakfast sandwiches. Breakfast tacos. Breakfast burritos. MIGAS! Breakfast anything. I need to break out new, healthier breakfast flashcards - muesli and fruit.
But there's more to this story. In the photo below, next to Vivace, there's a store called Mishu. I went in once, but I wasn't the target customer. It was awesome festival fashion. I'd like to think it's a place someone might have picked up some things before Woodstock, but naturally, as part of their regular shopping, not a moment of "OMG I'm going to Woodstock and I need to look festivally."
That's just a gut call from wandering by. Mishu moved on a couple of years ago. I'm not going to look up the date. There's a barber shop in that space now. I think Mishu is still in business online, but I'm not sure. I love these little moments in time, even though they're often sad, too. Someone took a chance on starting a business and employing people - that takes courage and determination. I hope Mishu is thriving online, or that the move led to other fruitful endeavors.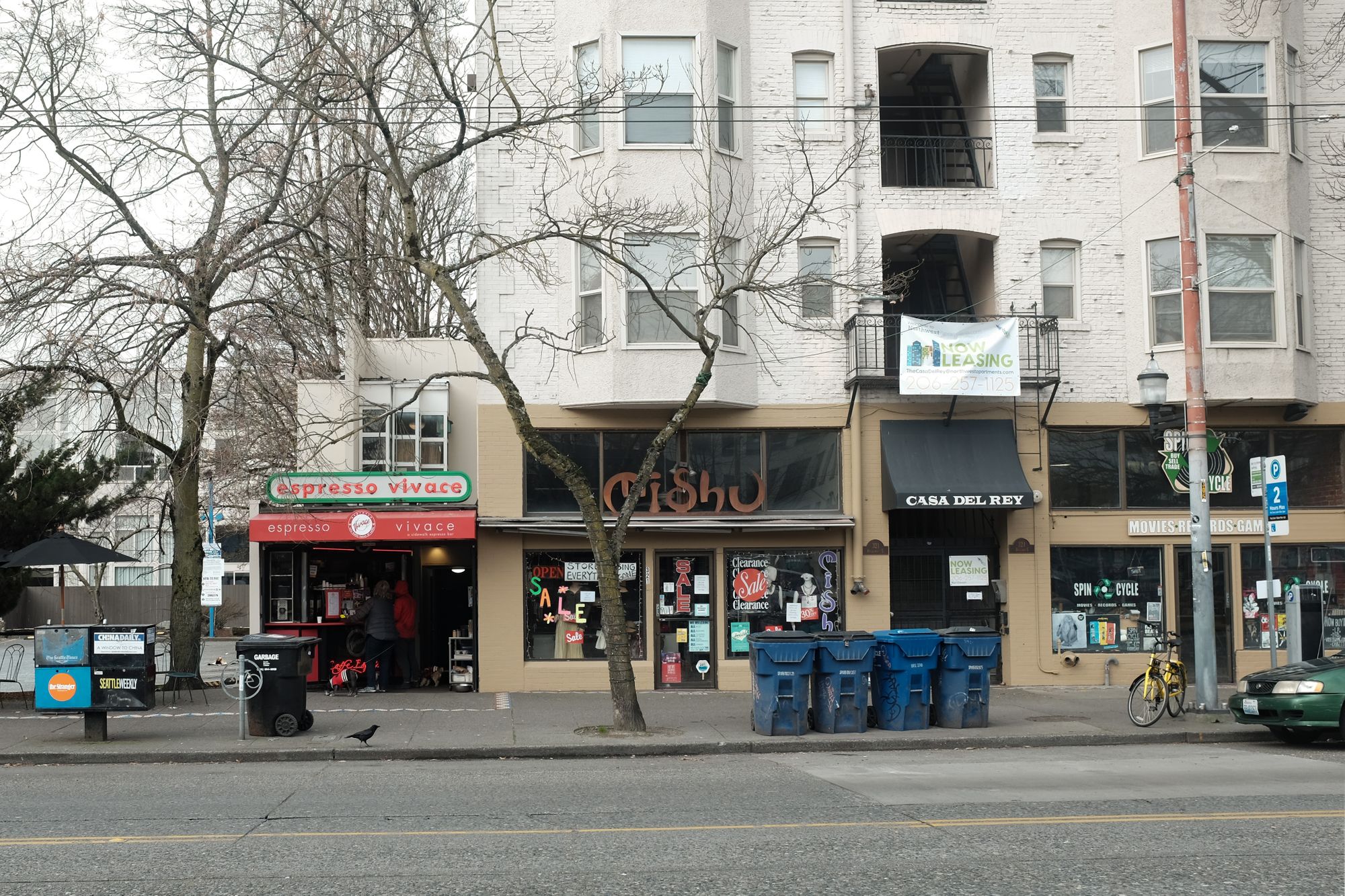 Still here? If you like vinyl, check out Spin Cycle. Great shop run by great people. Tomorrow I'm going to get a coffee at Vivace and see if The Stranger is still labeled on the newspaper thingmajig (zoom left). I think The Stranger stopped its print edition a while ago, but I'm not sure. And I'll close with another plug for the Capitol Hill Seattle Blog. Justin and the CHS team write about local businesses non-stop, celebrating their openings and victories and lamenting their closures. What a wonderful local publication. Hmm, that seems like it's from left field, sorry. I was reading their site today, and the end of month articles naturally see closings and openings...because leases.