This is the last time I'm going to discuss the election or how COVID-19 relates to the election. Is there really anyone who hasn't made up their mind about who they're voting for? Anyone claiming to be undecided at this point is likely an attention seeker.
I can't stop looking at the Jabin Botsford photo of the Rose Garden SCOTUS nominee event. That single still image sums up the Trump admininstration's incompetence, arrogance, and hubris.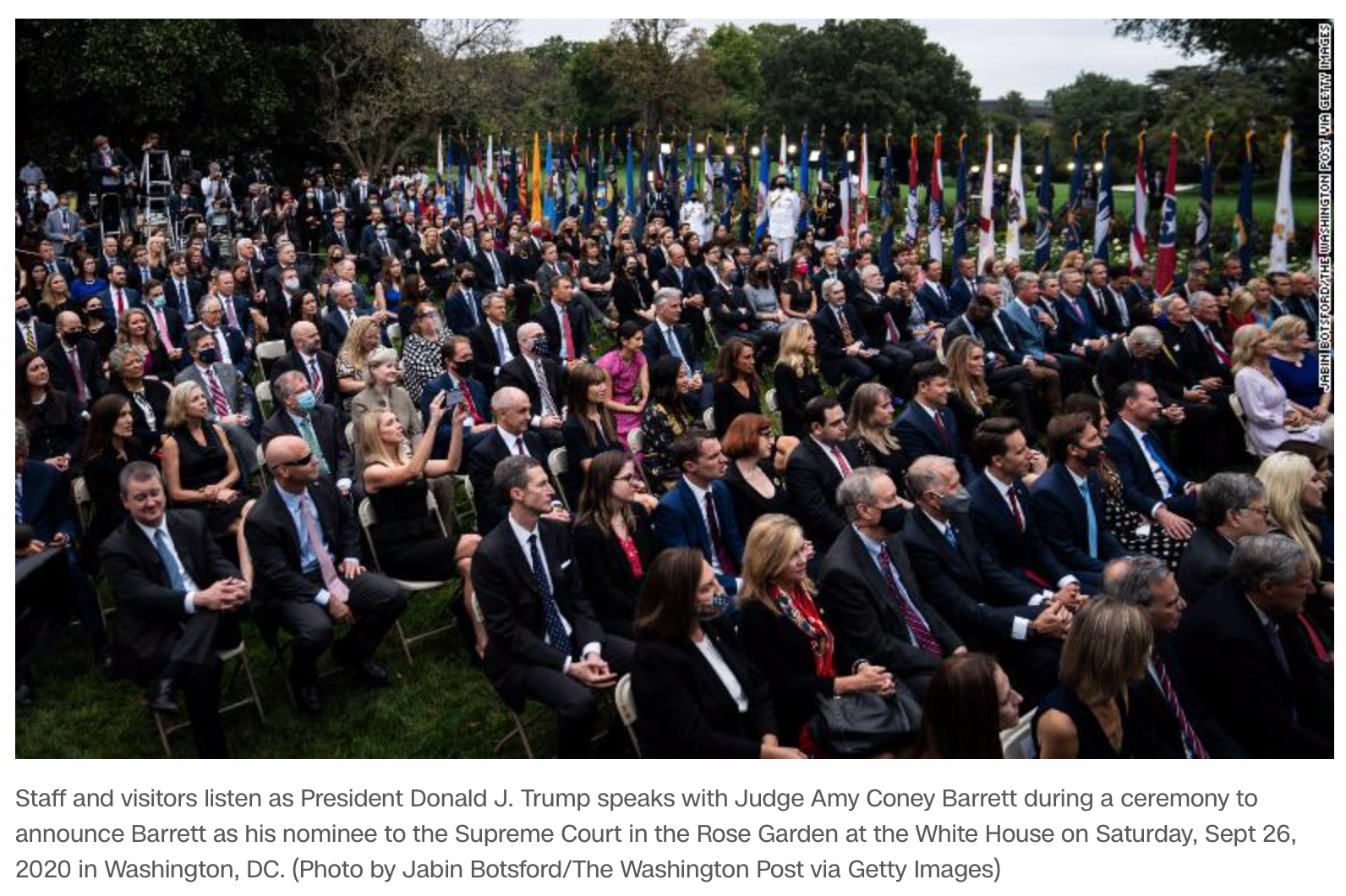 Seven months into a global deadly pandemic, facing a virus that is widely believed to spread easily through the air. Look at that crowd. A who's who of DC's most powerful people. That photo is going to live on in history books and museums.
The Washington Post combines the photo with a video highlighting the attendees and their proximity to seven attendees who have tested positive since the event. Hugs, conversations, mostly maskless. I started to type unbelievable, but it just isn't surprising.
Rose Garden event suspected of virus outbreak alarms D.C. officials
These people are running the country. If Amy Coney Barrett didn't express reservations about the generally maskless affair, I'd vote no on her nomination for terrible judgment. I realize there's not much else she could do beyond raising concerns.
I don't understand how anyone can look at that photo or watch that video and conclude that Trump and Pence are the right people to lead this country. Unfortunately, most of Trump's supporters will look at that photo and see their warrior leader fearlessly tackling the virus head on.
I watched some clips from a George Stephanopolous interview with Trump campaign adviser Jason Miller. It's another frustrating example of how politicians and their campaign members believe we are idiots. When pressed about Trump's record on wearing masks and holding large events where masks and social distancing are rare, Miller explained that Trump, the leader of the free world, can't just hide in the White House. A five year old could poke holes in Miller's logic and framing of Trump's options. There's no lack of space at the White House. Have a socially-distanced, masks required SCOTUS event.
Addendum: I just watched a powerful Jake Tapper segment.